If you are responsible for maintaining and administering your office's CRM platform, see our resources below:
Working with system codes and tables:
User Accounts:
How should we prepare for a departing staffer who uses the program? See what to look for prior to inactivating a user's account.
How do I add or edit a user account? See how to create a new user account, assign security roles, and inactivate accounts.
How do I edit a user's role or privileges? Create and apply new security roles to add or limit user privileges based on office roles.
User Preferences:
How do I set my user settings? Set printer and other user defaults for individual staffers.
How do I enable email notifications for casework updates? Set up email notifications for individual staffers based on casework interactions.
Restore Records:
If a user accidentally deletes a record, the record be retrieved from the "Restore Records" utility. Locate the gear-shaped icon in the top right corner, and select Restore Records from the dropdown menu.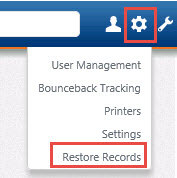 Select the type of record from the left navigation menu: Contact, Mail, Case, Case Activity, Flag, Flag Activity, Tour, Tour Activity, or Letter. Select the desired record, and click Restore.
View Log:
Each record has a detailed system log to track activity. To view updates or changes to a record, select the desired record and click View Log. Depending upon the record, the option to "View Log" will appear either at the top of the existing record, or in the toolbar of the module. See the following example: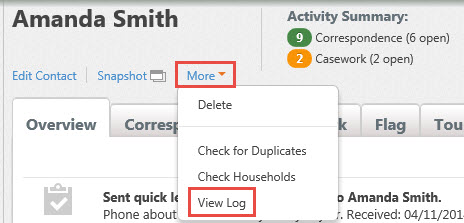 The log will display the record number, the date/time of the action, the user who performed the action, and the action itself.
Printing and Emailing:
Contacts:
How do I run a duplicate or household check? Run a system-wide duplicate or household check in the database.
How should I format a list of contacts for import into the CRM? See the proper format and available columns for list uploads.
How do I import/upload a list of contacts from an excel spreadsheet?Upload a list of contacts.
Filters and Searches:
Analytics/Reports: