Personal codes can be used to tag constituents or organizations with whatever values you create. Often they will be used to tag VIPs, government officials, frequent writers, community leaders, or event attendees. You also have the ability to color code them so you can easily recognize key contacts in any viewer.

Adding and Editing Personal Codes
If you are not working with contacts and just need to add or edit personal codes, click on the icon above the left navigation panel, and select Personal Codes.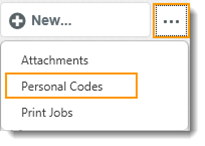 You will see all of your personal codes listed with their description and color. You can filter your codes by code, description, or color.
To edit a code, click on the code name. You can change the code's status, color, description, or name.
NOTE: If you have not yet used a code, you can delete it by checking the row of the code and clicking the Delete button.
If you need to create a new personal code, click the New Personal Code button. Give the code a name, description, and color if desired. Then click Save.
You can also create new personal codes just about any time you are applying a code. You will see the options to either Add code or Search for code when adding a contact or organization. If you need to create a new code, click Search for code, and select the New Personal Code button. 
Applying Personal Codes to Contacts and Organizations
You can apply personal codes to contacts and organizations in a number of areas:
Apply a personal code within the contact or organization record by opening the record, selecting Edit Contact, and then clicking either Add new code if you already know the name, or Search for code to search through the personal codes by name or description.
When importing new contacts or organizations, you will have the opportunity to apply codes to your imported list of contacts. Follow the same steps described above when you see the options to either Add new code or Search for code.
When searching for contacts or organizations in the Contacts module, you can mass assign a personal code to your search results. Click Select All, and then click the Assign button. Type the code name and select the correct code from the list that will appear below. Then click Apply.

Searching by Personal Code
Personal codes are very helpful filters for searching. In addition to using the filter when creating saved searches, you also have a very convenient search option in the Contacts module. You will see "Personal" listed as a filter option at the top of the Contacts module. Click on "Personal" and select the desired code.