| | |
| --- | --- |
| | To access Casework reports, select the Analytics tab from the top navigation menu. Select Casework from the left navigation menu. It will expand so that the list of Casework reports will display below. |
Complete the following steps to run each report:
Select the report you wish to run.
Specify the report parameters (complete each field).
Select View Report.
After viewing your report, you can choose to download it as a PDF (some reports also provide the option to download as CSV) or you can subscribe to the report. (See our article How do I subscribe to reports? for more information about report subscriptions.)
Casework Reports:
Casework Detail - This is a detailed report that allows you to drill down to specific case records. You can search for cases based on state, status, and assigned staff member. You have the option to show/hide certain columns. Each row includes a hyperlink for the case and the contact so you have instant access to both records from the report.

Casework Production Stats - This is a high level report that presents a count of received, closed, and outstanding casework within a specified time frame. The counts can be grouped by staff only, by staff and type, or by county.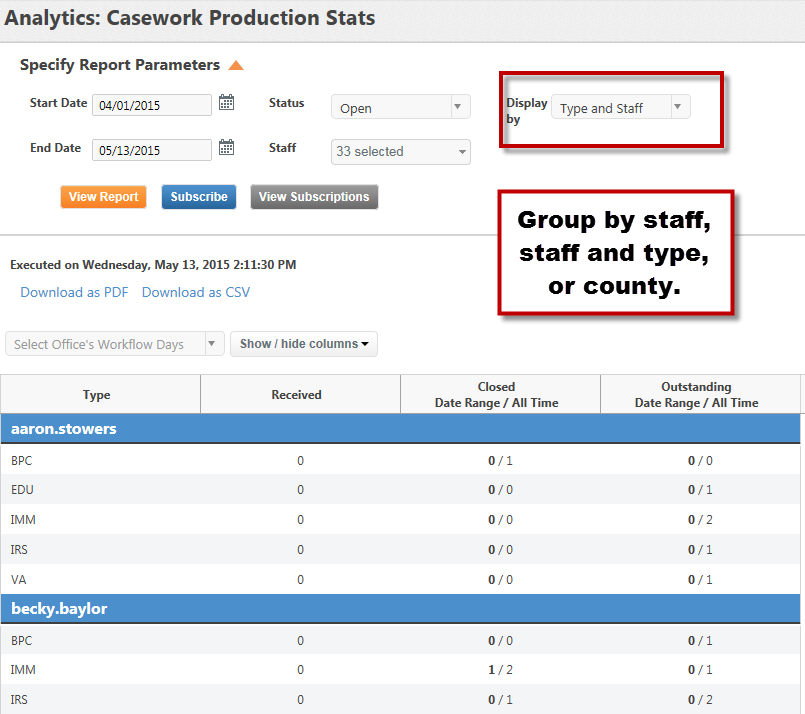 Casework Productivity by Month - This report lets you view a count of casework activity for the selected year grouped by month. You can choose to see a count for casework, casework activities, or journal entries.

Casework Trends by Week - This report provides a count of received and resolved cases broken down by week over a specified time frame. You can choose to run the report on specific staff or all staff.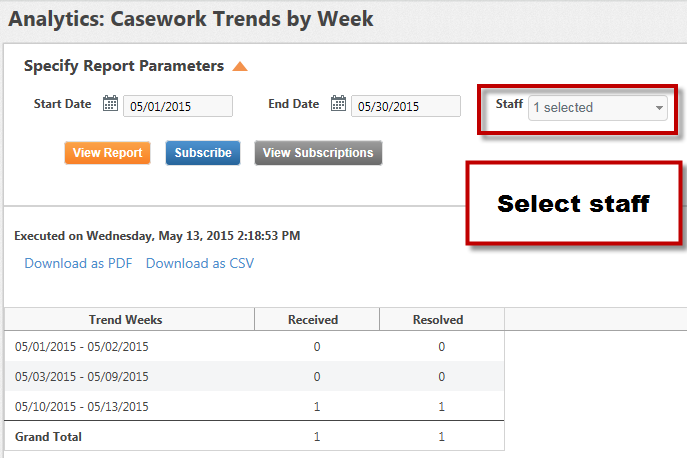 Casework Turnaround Summary - This is a great report to run for weekly meetings. It breaks down each selected staff member's productivity (received/resolved/outstanding casework) for the last 7 days, the month to date, and the year to date.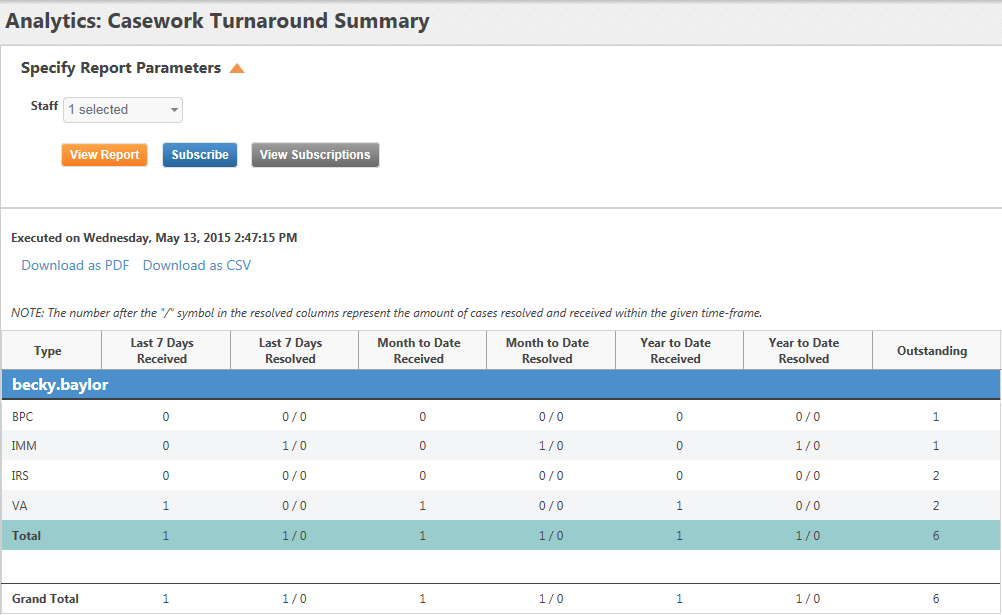 Outstanding Casework Detail - This report is similar to the Casework Detail in that you are able to drill down to specific cases, but here you are looking at all outstanding casework of the selected status for the selected staff member. You do not select a time frame since this report is concerned with ALL outstanding casework.
Outstanding Casework Summary - This is a high level report that simply provides a count of outstanding casework by staff, by staff and type, or by county.