Topic routing automatically assigns an interest code and/or staff ID based on the topic that a constituent selects from the "Contact Me" form on your website.
In order to use topic routing, your interest code table must contain codes that match the selections on your website exactly: "Agriculture" on the website and "Agriculture" in the interest code table.

To view the interest code table, click the "Show All Folders" that displays next to the New button above the left navigation panel, and select Interest Codes.
To edit an existing code, click the code name. Select the correct staff member from the "Assigned To" field drop-down menu. (You can also assign group codes, letters, and even an auto-reply based on the interest code.) Click Save.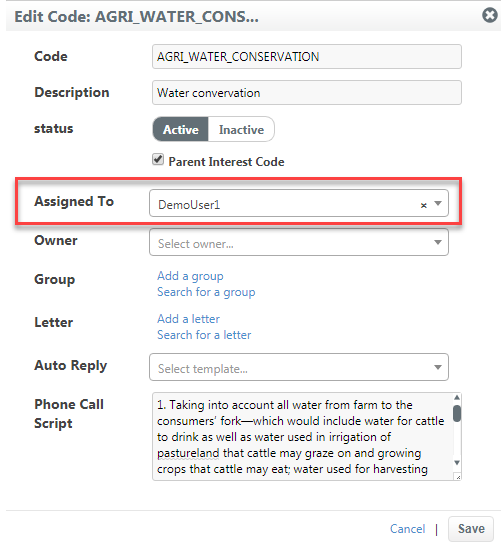 To create a new interest code, click the New Interest Code button, type in a code, a description, and select the correct staff member for the "Assigned To" field. (Do not modify the "Owner" field.)
The items submitted via the "Contact Me" form will come into the Inbox where you can verify that the interest code and staff member are correct. If anything needs to be changed, select the item(s), click Assign, and change the correct values. Select Mark as Open to move the item(s) on to the correct staff member's folder and out of the inbox. If the item(s) are labeled correctly, select them, check the Mark as Open check box.