A phone call is tracked as a correspondence activity, so you can log a phone call just like you do other correspondence; however, there is a dedicated "Phone Call" utility that provides several additional options for phone call logging:
Large message entry field.
Quick Contact edit option for editing contact information on the fly.
Personalized macros.
Office-wide phone call scripts based on selected interest code.
Logging a Call | Editing a Contact | Creating Macros | Adding Phone Scripts
Logging a Call
You can log a phone call pretty much anywhere without having to leave the screen you're working on. (Before leaving your work to log a call, save your changes.) Click the New button above the left navigation panel, and then select Phone Call.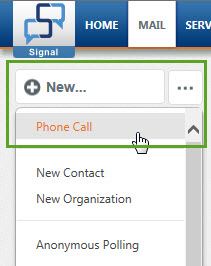 Type the message.
Apply Interest Code, Sentiment, In type, Group Code, Assigned staff, etc. (If you have additional information like Letter or Due On date that needs to be assigned, expand "Additional Fields.")
Lookup or create a new contact.
Save your phone call.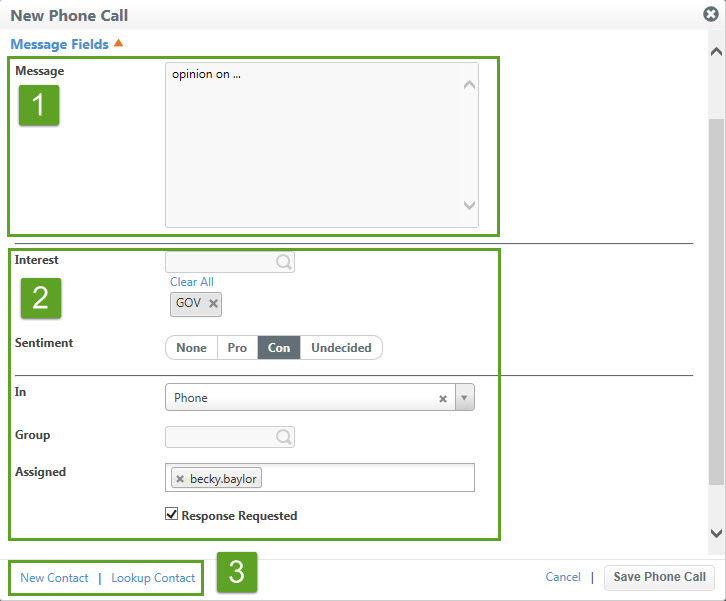 Additional Phone Call Options
Editing a Contact on the Fly
After looking up a contact and adding the contact to the phone record, you may need to make a change such as adding a phone number or an email address. You can click on the ID number next to the Contact's name, or you can click Edit Contact to access a streamlined edit window.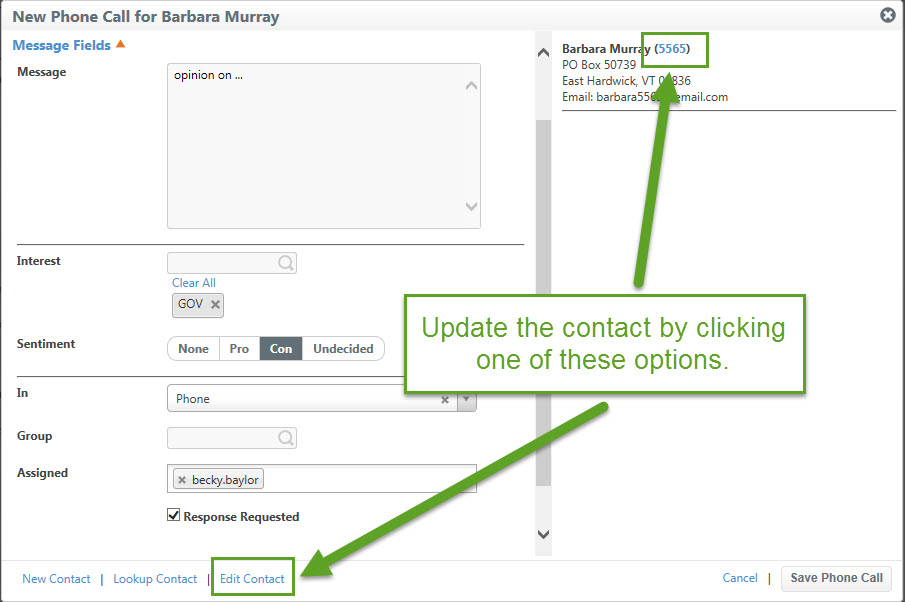 When the "Updating Contact" dialog appears, make your change, and then click Save.
Creating Personalized Macros
Phone Call Macros allow you to set up the phone call fields ahead of time and save them for future use. If you log calls regularly, you might find it helpful to create a "Default Macro" that will automatically load the Phone Call utility with your most commonly used settings. You can also create macros to address campaigns or hot-button issues. Each user can create their own customized macros.
To create a default macro for use with the majority of your calls, open up the New Phone Call dialog, and fill out the form with your desired settings. (Most users will want to set the "In" type to "Phone" and potentially assign a certain staff member if you know that you always assign calls to the same person.) Then, next to "Macro Actions," click Save.

Give your macro a name.
Check the "Default Macro" checkbox.
Click Create.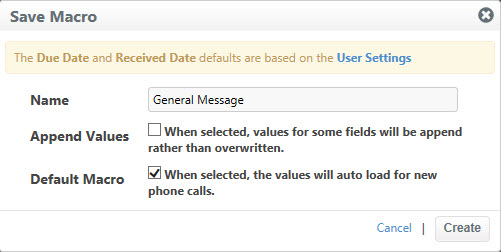 NOTE: You can only have one default macro. This macro is the only one that will automatically apply settings to your new phone calls.
For macros that address campaigns or hot-button issues, the process is very similar.
Start by logging a call as you normally would, but prior to clicking Save Phone Call, click Save next to "Macro Actions."
Give your macro a name, and decide if you want the macro to overwrite any values that may be assigned to other phone calls (don't check any options), or if you'd rather the values included in the macro be appended to ones that have already been added (check the "Append Values" option).
Click Create.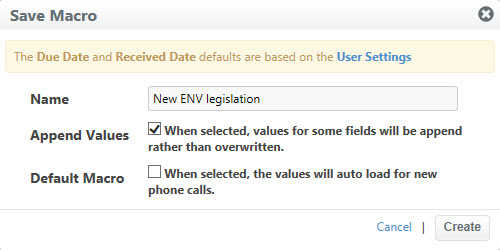 NOTE: For future calls about this topic, you will select the macro name from the "Macro" dropdown menu, and your settings will automatically populate.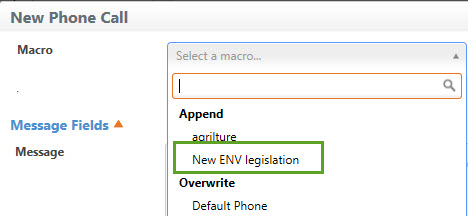 Adding Phone Call Scripts to Interest Codes
Unlike macros, which are user-specific, phone call scripts are office-wide, so the scripts typically go through an office approval process similar to letters. Once a phone call script is approved, it can be added to the Interest Code table.
Click the "Show all folders" icon above the left navigation panel. (It looks like 3 dots next to the New button.) Then select Interest Codes from the dropdown menu.

Find the code you'd like to apply the script to, and click on it.

When the "Edit Code" dialog appears, enter the script into the "Phone Call Script" field.



To use the script for future calls about this topic, add the interest code when logging the call. The script will appear on the right. You can even view multiple scripts if you have more than one interest code added to the phone call.