Typically activities that all need to get the same response letter are already assigned the same group code or interest code, so you can group them by either of those fields to see all the items together. (You can also group by duplicate messages or search by incoming message. See our article "How do I sort new email in the Inbox?" for more information on sorting.)
Assigning a Form Letter
Select the activities you wish to work with by clicking individual activity rows or groups.
The Activity Assign panel will appear on the right. You can assign any and all values pertaining to the activities. Keep in mind whatever fields you fill in will overwrite what is already in those fields for all of the selected activities. Only complete information for fields that you want to mass assign. (See our article "How do I assign a group of activities to a staff member?" if you need to assign incoming information like assigned staff and interest code.) To assign a response letter to a group, you will need to select the correct Out Type, Response, and Letter.
Out Type

: Select either "mail" or "email." Typically the out type matches the in type, so this might already be set.

Response

: The response type should be set to "form." A form letter can go out to multiple contacts as is without editing. (A quick letter is for only one contact, and the letter can be edited just for the selected contact.)

Letter

: Select the correct form letter by typing the letter code if you know it, or use the magnifying glass to search for letters by code or description. (If your letter has not yet been added to the Letters module, then see "How do I add a form letter?" for instructions.)
After completing the above fields, click Assign or click the drop down arrow and choose either Assign and Send, or Assign and Add to Job if you're ready to print or email a response. (See our article "How do I print or email a large group of correspondence?" for more information about working with jobs.)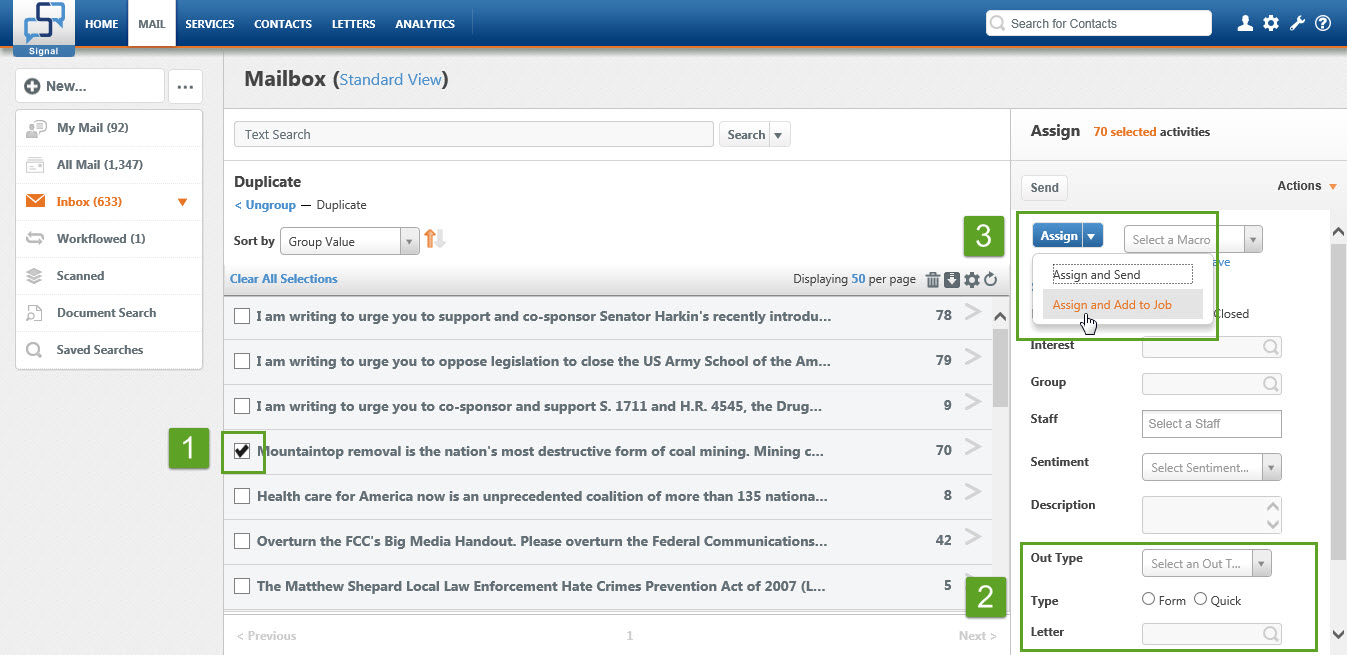 After assigning, your assign results will appear in a notification across the top.
Warnings and Restrictions
If you are attempting to assign a letter to a constituent who has already received the letter before, you might receive a warning. You can choose to change what you're assigning to the activities with the warnings, or you can ignore the warnings and continue with your current assignments.

Select All: Select the records you wish to apply settings to. You can select them individually or you can click the Select All button to select all the records.
Edit Assign: If you would like to change what you're assigning to the activities with the warnings, click Edit Assign, which will open up the Assign Panel on the right. (The most common course of action is to close the activities by checking the Close option in the Assign panel.) After making your changes, click Assign.
Ignore all warnings and assign: If you choose to ignore the warning and send these constituents a form letter even though they've already received it, click Ignore all warnings and assign.
You will be returned to the mail viewer where you will see your activities that all of the activities have been successfully assigned.