If you find that you do the same tasks every day, you might want to set some information such as printer, narratives, in type, and letter type to default automatically to your preferred settings.
Start by clicking on the profile icon in the top right of the screen.

All of the available defaults will be listed and grouped by section. Here are a few of the most commonly set preferences:
General | Mail | Casework | Letters
If you ever print or email response letters or plan to write quick letters, you will want to set your general preferences. This includes your default printer, print job type, print job name, remote desktop printing, your preferred email template, and narratives for any quick letters you may write. (Narratives are the header and signature that appear in your outgoing letters.)
This also includes an option to enable workflow notifications, which will allow the application to send you an email notification when a new record is workflowed to you, and an option to collapse groups by default, which is extremely helpful if you work with high volumes of correspondence or casework.
See the example below for common settings:
If you create correspondence activities, you might find that you typically log the same type of activity into the program. If that's the case, then you can set your Mail Activity Defaults.* This includes in type, assigned to, received date, received by, out type, response type, days due, and owner. In the example below, the mail activity defaults are set for someone who usually creates activities in order to log phone calls that are usually responded to with a form letter: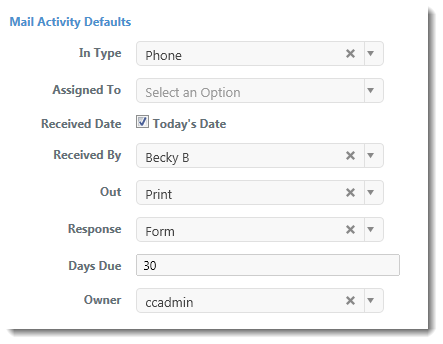 * While you are able to set your mail defaults here, you can overwrite these preferences as needed in the Contacts module when you create activities and click Save Defaults.
If you create casework and casework activities, you might always include some of the same information. You are able to set both Casework Defaults and Case Activity Defaults. This includes information such as status, office location, assigned to, owner, response type, and due date. In the example below, the defaults are set for someone who usually creates active cases in the DC office and prints quick letter response letters: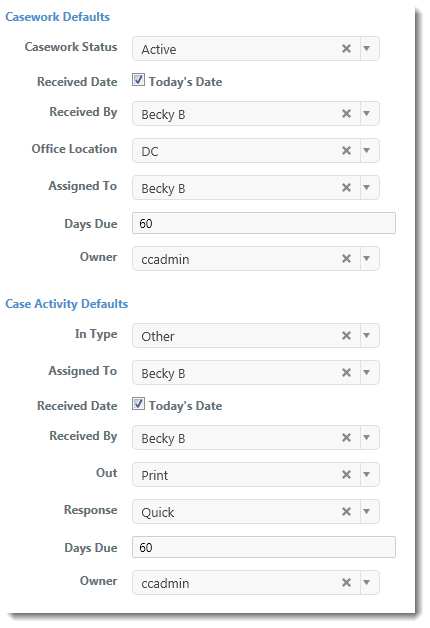 If you ever add form letters to the Letters module, you will want to set your default narratives (the header and signature fields) and the usage type (correspondence or casework). In the example below, the defaults are set for someone who primarily writes form letters for correspondence: