No matter where you're working in the program, you always have the Quick Search available in the upper right corner. Start by searching for the contact.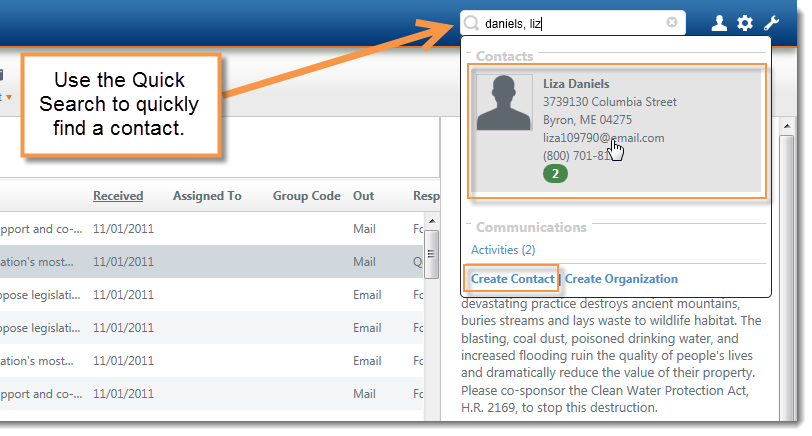 Type the contact's name (Last, First) in the Quick Search field.
Results will appear below. If the contact is already there, you can access the record by selecting it.
If the contact is not in the database, you will see "No results found." Click the link to Create New Contact.
You can also add a new contact by clicking the New button above the left navigation panel and selecting New Contact. (This option appears in Mail, Services, and Contacts.)

NOTE: Always search for a contact before creating a new record to avoid creating duplicate records.
If the contact is not already in the system, complete the Contact Information form as completely as possible.
Initially only "Name" fields appear on the form. Fill in the name information, including prefix.
In the "Salutation" field, you can free type a salutation, select a format from the dropdown menu, or select Use Default to automatically fill in the salutation with the office's agreed upon format.
To see more fields, click on the links to add more. For instance, if there is a title for the contact, select Add Title to see the title field appear.
If there is information you do not have, bypass those fields.
If you have address information, click Add address. Complete the address. (If you type in the zip code, the city, state, county, and district information will fill in automatically.) You may be prompted to check for possible duplicates. If you have not already checked for a matching constituent record, click on the Click here link to see if there are possible matches.

At the bottom of the New Contact form, there is a checkbox that reads, "Create Activity." If you're creating the contact in order to create a correspondence activity, then check this box. Your Contact Information form will expand to include the fields normally associated with activities. (If this is a phone message, set "In" to Phone, click Add description, and type in the phone message. You will also need to assign an interest code and a staff member.)
Click Save.
You will automatically be taken to the new contact's record. Make edits if necessary, or click the X in the upper right to close the new contact record.