Filters are located in the left main navigation menu for the Inbox, Draft and Sent.
It is important to remember that the inbox will only show you messages that are assigned to you. The Team Inboxes shows all messages.
Inbox tab (received communications)
Search: You can search by keyword or contact name.
Campaigns: Sorts all duplicate messages. you can view the duplicate messages by selecting the drop down button.
Tags: You can search by tag. Available tags are listed in the left navigation menu. The numbers next to the available tags are the total usage of each tag.

Channel

: Displays the type of correspondence. You can view each correspondence type by selecting the drop down button.
Constituent status: You can filter by whether the sender is a constituent or non constituent.
Response preference: This filter will allow you to sort by whether constituents would like a response.
Assigned to: Filters correspondences by the assigned user. To view users, click on the drop down button.
Received: You can select a specific date or date range to filter by.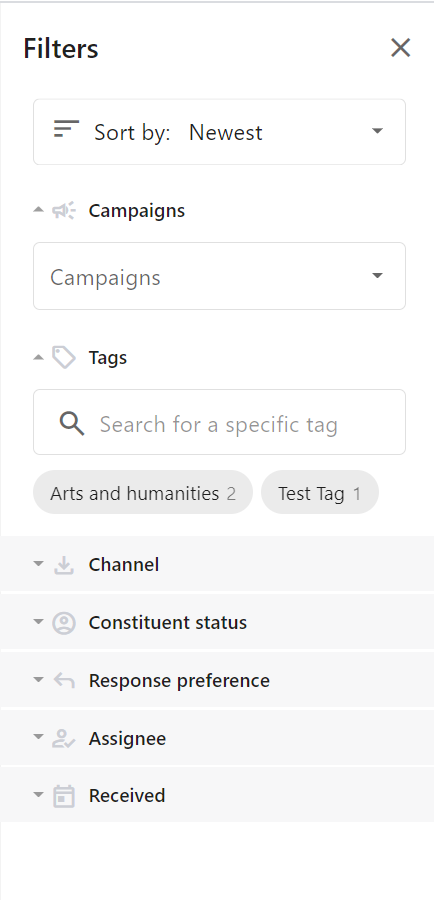 Outbound (sent communications)
Sort by: You can sort by Newest to Oldest.
Created by: Filters drafts and sent mail by the user.
Response letter: Displays correspondence by template used.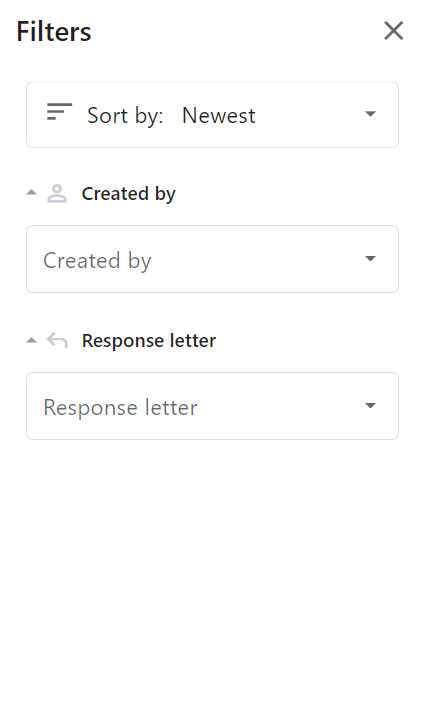 Content Library
The content library can be sorted by status (final, draft and archived)
Search: Filter by keyword.
Sort by: Templates can be sorted by title and recently modified.
Assigned to: Filter by user who created the content.
Last modified by: Filter by user who last modified the content.