Case emails received in other applications such as Microsoft Outlook or Gmail can be forwarded into a Case in the CRM.
NOTE: A configuration option is required to enable this feature. Contact support@iconstituent.com to enable.
1. From Services, locate the case in My Cases.
2, Click the Link

icon in the Case ID column.

3, The Case Detail Links dialog opens, copy the Direct Mailing ID string.
4. Click Close.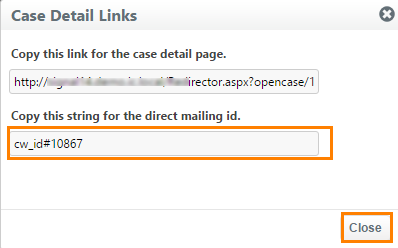 5. From your email application open the email, click Forward.
6. Paste the Direct Mailing ID string that you copied in step 3 into the body of the email.
7. Enter your office's CRM "TO" email address into your mail application's TO field.
NOTE: If you are not sure what your office's CRM "TO" address is, contact support@iconstituent.com.
8. Click Send.
9. The email will show up as a new activity in the case.